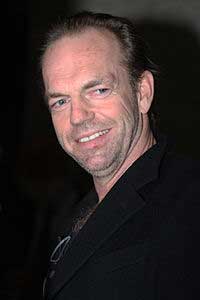 Date of Birth: April 4, 1960
Born in Nigeria, Hugo Weaving moved with his family to Australia before he was one. His father worked with a multinational oil company and the family moved to South Africa, Great Britain and then back to Australia in 1976, where the family would finally settle down. Weaving graduated from the National Institute of Dramatic Art in 1981. His film debut came while he was still a student, in Maybe This Time (1980). He worked in theater after graduation, then got a lucky break when he landed the starring role in his second feature film, The City's Edge (1983). His television debut was in the mini-series Bodyline (1984), and he continued to land principal roles in films and mini-series for the next few years. For his starring role in Proof (1991), he won an Australian Film Institute (AFI) Award for Best Actor in a leading role.
Weaving first gained international attention when he played a drag queen in the hit Australian film The Adventures of Priscilla, Queen of the Desert (1994). He provided the voice for Rex, the sheepdog in the hit film Babe (1995), which earned over $240 million worldwide at the box office. He won a second AFI Award for Best Actor in a leading role for his work in The Interview (1998) and also in 1998, he won Australian star of the year.
Weaving was seen in The Lord of the Rings trilogy as the elf Elrond, as well as playing Agent Smith in The Matrix trilogy. He also provided the voice of Noctus in the animated feature Legend of the Guardians: The Owls of Ga'Hoole (2010). He has been married to artist Katrina Greenwood since 1984, and they live in Australia with their two children.