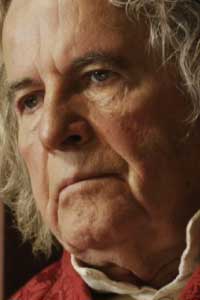 Date of Birth: September 12, 1931
This native of Goodmayes, England was born in an asylum where his father was both doctor and superintendent. He was inspired to taking the acting route after he watched a live stage performance of Les Miserables at age eight. His drive to become an actor was nourished after primary and secondary school. Holm attended the Royal Academy of Dramatic Actors, followed by a stint in the National Service. In 1954 he was hired on by the Royal Shakespeare Company at Stratford-On-Avon where he made his first stage appearance as a spear carrier in the play, Othello.
Throughout the '50s and '60s Holm continued working onstage in England as well as the United States. Playing in just about every Shakespeare play from King Lear and Henry IV to The Tempest and Twelfth Night, small roles in the 1950s led to lead characters by the 1960s. Other plays include The Cherry Orchard, The Homecoming, The Sea and Other People.
By the late '60s, he'd made his first large screen appearance in The Bofors Gun, for which he earned a BAFTA award for Best Supporting Actor. Other strong performances followed in films like The Homecoming (1973), an android in Alien (1979), a mean-spirited Napolean in Time Bandits (1981), Chariots of Fire (1982), for which he earned an Academy Award® nomination, Greystoke: The Legend of Tarzan (1984), Brazil (1985) and Lewis Carroll in Dreamchild (1985).
In 1989 he had received the Commander of the Order of the British Empire for his work in the acting profession. Almost ten years later, he received a knighthood from the Queen of England.
Other notable appearances in the '90s and beyond include a jealous, straying husband in Naked Lunch (1991); Dr. Frankenstein's father in Mary Shelley's Frankenstein (1994); a rival restaurateur to brothers Stanley Tucci and Tony Shalhoub in Big Night; a slick lawyer trying to convince members of a community to file a lawsuit after a tragic schoolbus accident in The Sweet Hereafter (1997, for which he won a Genie Award); a bumbling priest Vito Cornelius in The Fifth Element(1997); eXistenZ (1999); the starring role of Joe in Joe Gould's Secret (2000) and an old but cheerful Hobbit, Bilbo Baggins in the Lord of the Rings trilogy (2001-2003).
Married and divorced three times, Holm has a total of five children, including actor Barnaby Holm, his son from an unmarried relationship with a professional photographer named "Bee."