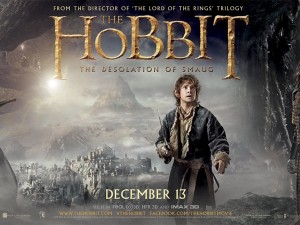 Warner Bros. Pictures and MGM have revelaed a new banner for the upcoming Hobbit film, The Hobbit: The Desolation of Smaug.
In the second film of The Hobbit trilogy, Bilbo Baggins (Martin Freeman) continues his journey with the Wizard Gandalf (Ian McKellen) and thirteen Dwarves, led by Thorin Oakenshield (Richard Armitage) on an epic quest to reclaim the lost Dwarf Kingdom of Erebor.
In this installment, they must face the dragon Smaug (voiced by Benedict Cumberbatch) in order to help the Dwarves return to their rightful home.
Let us know what you think of the new banner!
Comments: